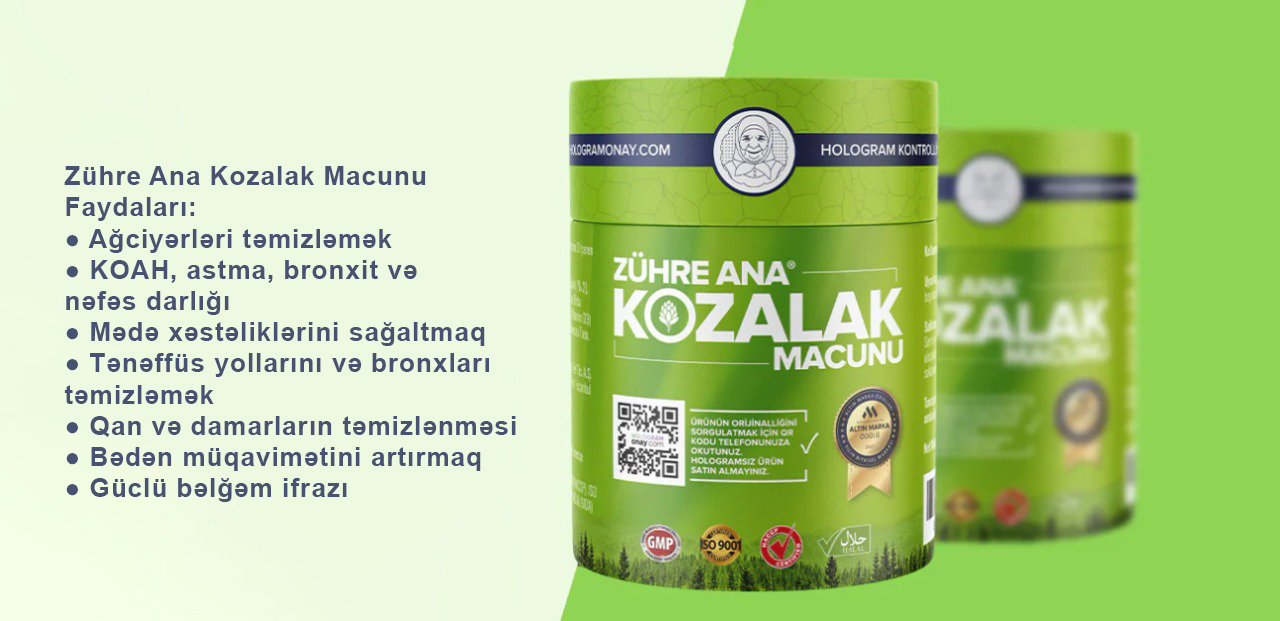 Zühre Anadan
Zühre Ana Herbal set out in 2010 to provide natural flavors that everyone can safely consume. With business principles that have not changed from the past to the present, Zühre Ana Herbal operates on the basis of 100% customer satisfaction at every stage, from product procurement to production, packaging, distribution and presentation. Today, they continue their commercial activities in Essen, Istanbul. They continue to expand a wide range of syrups, creams, vitamins, from herbal creams to molasses, from organic products to bee products, especially Pastes and Vitamins. They also provide customers with a seamless e-commerce experience.
Let's take a closer look at some of the delicious and useful pastes and massage creams of Zühre Ana, which currently has a wide customer base and customer satisfaction in Azerbaijan.
Kozalak paste that cleanses the lungs
It helps to remove tar from the lungs, COPD, asthma, bronchitis and shortness of breath, expel phlegm, and clear toxins from the airways and bronchi.
Zühre Ana Kozalak paste also cleans blood and vessels, increases body resistance and helps cure stomach diseases.
Ingredients:
Kozalak, vitamin C, vitamin D3, andiz molasses, carob molasses, mint, beta glucan, zinc gluconate, ginger, carrot, galangal, cloves, kebabiye.
Height-enhancing Kids Cocoa paste
Zühre Ana Kids Cocoa paste has a great effect on the healthy growth of children, especially those who are growing. Growing children need to get enough calcium and minerals to have a healthier bone structure. Kids Cocoa paste helps meet these needs of children.
It also fights many problems that can arise in children, such as anemia (bloodiness), loss of appetite, thanks to the vitamins it contains.
Ingredients:
Flower honey, cocoa, pollen, royal jelly, carob molasses, propolis, L-Tryptophan, L-Ornithine, zinc gluconate, calcium gluconate, vitamin C, histidine, colostrum.
Form paste for natural slimming
The Form paste made by Zühre Ana eliminates obesity and excess weight. It accelerates metabolism with its rich composition, helps to burn fat 2 times faster and prevents unnecessary eating by providing a feeling of satiety for a long time. The sandalwood juice in its composition has an antibiotic effect.
Thanks to the components contained in the form paste, your energy and metabolic acceleration always remain at a high level.
Ingredients:
Blueberry, rosemary, heather, cherry fruit stem, corn cob, sea buckthorn, artichoke, l-carnitine (%4.16), sandalwood juice, cinnamon, green tea, apricot aroma, pomegranate syrup, chromium picolinate, chytre.
Natural antibiotic Propolis paste
Thanks to its rich composition, it strengthens the immune system, helps to heal herpes and skin wounds caused by low immunity. It helps to increase your energy due to its vitamin C, zinc, and beta glucan content. It increases the resistance of the body, helps the skin to remain healthy and beautiful. Form paste is also known to be beneficial for eye health.
Ingredients:
Flower honey, beta glucan, pollen, propolis, carob molasses, royal jelly, ginseng, gum.
Massage cream with 6 different oil compositions
Zühre Ana Massage cream relieves muscle pain and makes it easier to walk and go up and down stairs. It is good for pain and mobility in cases of stiffness (such as neck stiffness), provides relief in the outer layer, treats arm, neck, leg and shoulder numbness, spinal cord and hernia pain. . It also helps to relieve back pain.
It reduces muscle and joint pain, has a good effect on healthy joints, relieves rheumatic and chronic pain, as well as nerve pain. Due to the pepper extract (red pepper extract) in its composition, it has a burning and regenerating effect. It has a good effect against muscle contractions.
It supports the joints by reducing inflammation. It allows blood vessels to relax and blood flow to accelerate.
Ingredients:
Deionized Water, Glycerin, Oregano Oil, Olive Oil, Sesame Oil, Mychel Oil, Eucalyptus Oil, Camphor, Red Pepper Extract, Glucosamine Hydrochloride, Chondroitin Sulfate, Methylsulfonylmethane (MSM), Frankincense Extract, Beeswax, Panthenol (Vitamin B5), E vitamin, L-glutathione.
Kozalak paste with stevia added for diabetics
Useful for COPD, asthma, bronchitis and shortness of breath. Prevents diabetes, hypertension and obesity.
It cleans the respiratory tract and bronchi, including blood and blood vessels. Increases body resistance. Since it is sugar-free, it is specially designed for diabetics and patients who are not allowed to consume sugar. Stevia-infused Kozalak paste also reverses permanent damage caused by toxic fumes such as cigarettes, which cause lung disease, especially due to the body's inability to absorb the necessary minerals.
Ingredients:
Kozalak, saricotta, ginger, cholecalciferol (vitamin D3), ascorbic acid (vitamin C), carob powder, zinc gluconate, carob powder, deionized water, stevia, mint, beta glucan, galangal, cloves.